Hey Morning Line and Chaplaincy Partners,
It's time to head to the Great Summer Race Meet at Fredrickburg,Tx
July 4,5,18,19 and August 8,9,22,23.
Every year Race Chaplaincy of Texas has the privilege to minister to our track family and Gillespie County Fair workers and patrons. We always have great days of fun in the sun and sharing the Son (Jesus). Pray for safe days and cloud cover.
Your financial support and prayers allow us to go into the highways and byways all across the tracks of Texas, Oklahoma, and around the world, through e-mail and social media. With your help we can keep touching thousands of lives daily.
We minister spiritually, physically, and financially while leading them and discipling them in a personal walk with our Lord.
Load up and come spend a day with us.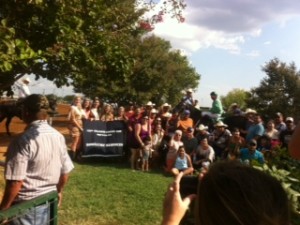 John 21:17
He said to him the third time, "Simon, son of Jonah, do you love Me?" Peter was grieved because He said to him the third time, "Do you love Me?" And he said to Him, "Lord, You know all things; You know that I love You." Jesus said to him, "Feed My sheep."