Morning Line: Be an Extra Miler!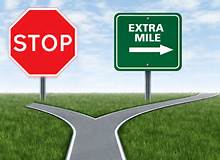 You've not lived successfully unless you've done something for someone that can't repay or in the natural doesn't deserve it.
Matthew 5:41" if anyone forces you to go one mile, go with him two [miles]"
God is watching the seed you sow in all areas of your life.
Luke 6: 38 "He does the pressing and multiplying. He Brings your harvest.
John 15:11-13 " These things have I spoken unto you, that my joy might remain in you, and that your joy might be full.  This is my commandment, That ye love one another, as I have loved you. Greater love hath no man than this, that a man lay down his life for his friends."
Christ Jesus taught the secret to joyful living is in the extra mile.
Be an EXTRA miler! There is no traffic jam go for it!
Live with expectation full of His spirit guiding you!
See ya in God's Winners Circle
GW
Contact- Contributions or Prayer requests:
Mulligans for Life/ Morning Line Chapel
mulligansforlife.com
Join our "MLF-MLC" team, become a $19.95 monthly partner!!
Help "Mulligans" Change lives around the world one leg up at a time!