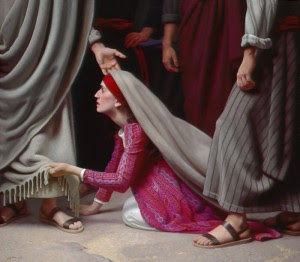 MORNING LINE: Be Determined!
Mark 5:27-29 "She had heard about Jesus, and came up behind him in the crowd and touched his cloak, for she said, "If I but touch his clothes, I will be made well." Immediately her hemorrhage stopped; and she felt in her body that she was healed of her disease. "
Don't be pressured by the crowd around, be focused on the touch you need.  Remember the words you speak your heart believes, speak life, health and victory. Diligently seek and find, knock and it shall open. Luke 11:9-13 (NRSVCE) … "So I say to you, Ask, and it will be given you; search, and you will find; knock, and the door will be opened for you. 1For everyone who asks receives, and everyone who searches finds, and for everyone who knocks, the door will be opened….. If you then, who are evil, know how to give good gifts to your children, how much more will the heavenly Father give the Holy Spirit to those who ask him!"
Press in and you will find the Father pressing back, pulling you in to fulfill your need.
Live Life with Expectation!
Partner with "Mulligans" changing lives!
Mulligans for Life
16845 N 29Th Ave #5 Phoenix, AZ 85053
www.mulligansforlife.com (501-3c)
Any size donation makes a difference!