Morning Line: Count on God's direction.
When we don't know or refuse to follow God's plan, life can easily spin out of control in a whirlwind of confusion and doubt. God offers direction and guidance through His Word, through His people and through the Holy Spirit.
Psalm 32:8 "I will guide you along the best pathway for your life. I will advise you and watch over you"
Have faith today, ask you Father God to open your spirit, and eyes to His plan and be ready to ride.
As you enter the starting Gate for 2016, Enter with praise and thanks giving , be ready for the ride of your life, Father, Son and  Spirit have a great up-grade for you. Trust, Seek, and Find.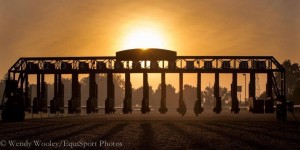 See ya in God's Winners Circle
Chap
Contact- Contributions or Prayer requests:
Mulligans for Life/ Morning Line Chapel
3850 West NW Highway #3401
Dallas, Tx 75220
mulligansforlife.com
Prayerfully consider a tax-deductible yearend contribution