Morning Line: Healing!!
"…I am the Lord, who heals you." Exodus 15:26
One of God's names is 'Jehovah Rapha,' meaning 'I am the Lord who heals.' As God calls Himself the healer, then you have the right to believe what He says and expect that, He will. His promises are backed by all the honor of His name (Psalms 138:2) . Pray, in faith believing. A 'good faith' deal requires that both parties trust each other's word. Their trust is a rational decision of their will, not their emotions. Faith is your will deciding that God will keep the promise He has made to you. It's refusing to say, 'If only I felt more positive.' Jesus spelled it out: '…All things for which you pray and ask, believe that you have received ….' (Mark 11:24 ). Whatever your need, Jesus Christ and the promises of God are the answer, you can bank on it.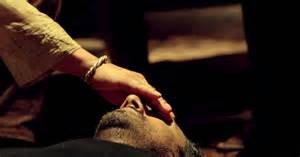 See ya in God's Winners Circle
Chap
Contact- Contributions or Prayer requests:
Mulligans for Life/ Morning Line Chapel
3850 West NW Highway #3401
Dallas, Tx 75220
mulligansforlife.com