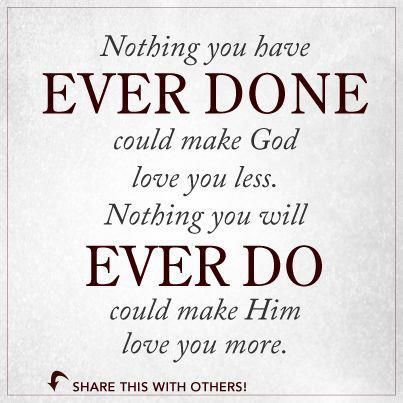 Morning Line: "Love never fails"
The first step in receiving and releasing God's kind of love is to recognize the difference between human love and God's kind of love. God's love never fails and is unconditional. Since we didn't earn it we can't lose it.
Philippians 4:6 Be anxious for nothing, but in everything by prayer and supplication, with thanksgiving, let your requests be made known to God;
Philippians 4:19 And my God shall supply all your need according to His riches in glory by Christ Jesus.
Let God's love warm your spirit and pass it on.
If God fellowships only with perfect people, none of us would measure up. If God can't use a dirty vessel whom is he going to use? By the cleansing of Jesus Christ blood we're given a new spirit & heart. On earth we wrestle with our flesh, by walking in the spirit we have fellowship with God and overcome.
Romans 8:1″now no condemnation to them, which are in Christ Jesus, who walk not after the flesh, but after the Spirit"
Let God's Spirit mold you into all you were born to be, a Winner.
Live Life with Expectation!
See you in God's Winners Circle.
GW
Mulligans for Life/ Morning Line Chapel
16845 N 29Th Ave #5 Phoenix, AZ 85053
Contact- Stay in-touch with events and more Down Load App for Contributions or Prayer requests: Mulligans for Life/ Morning Line Chapel,mulligansforlife.com
Partner with "MLF-MLC. Help "Mulligans" Change lives around the world one leg up at a time!