MORNING LINE: Narrow Gate!
God wants you fit and ready, pushing for your destiny through the narrow gate (Jesus Christ), leading to Eternal Life and victory. You have to go through the gate to get in the race. Don't stumble over discouragement before you breeze down the stretch as your path opens.
Jeremiah 29:11" I know the thoughts that I think toward you, thoughts of peace, and not of evil"
2 Peter 1:10-11 Therefore, brethren, be even more diligent to make your call and election sure, for if you do these things you will never stumble; for so an entrance will be supplied to you abundantly into the everlasting kingdom of our Lord and Savior Jesus Christ.
Saddle up God is riding with you to Victory.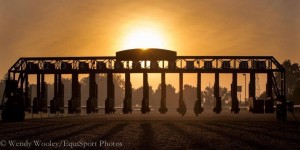 See ya in God's Winners Circle
Chap
Contact- Contributions or Prayer requests:
Mulligans for Life/ Morning Line Chapel
3850 West NW Highway #3401
Dallas, Tx 75220
mulligansforlife.com