Morning Line: No's OK!
 When opportunity knocks we don't always have to embrace it. Instead of adding to your To Do list start a Stop Doing list.
" Therefore, since we are surrounded by so great a cloud of witnesses, let us also lay aside every weight and the sin that clings so closely, and let us run with perseverance the race that is set before us, 2 looking to Jesus the pioneer and perfecter of our faith, who for the sake of  the joy that was set before him endured the cross, disregarding its shame, and has taken his seat at the right hand of the throne of God.Hebrews 12:1-2 (NRSVCE)
Your mind will be clearer, with a better judge of opportunity when it's knocking. Focusing on God your list will be more manageable goals more reachable and full-filling.                                                            Patience makes you a more consistent "Winner of more Life's Races bringing other with you"!
 Live with expectation full of His spirit guiding you!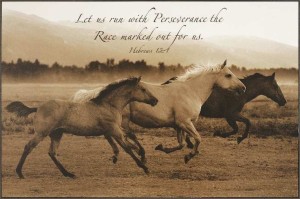 See ya in God's Winners Circle
GW
Mulligans for Life/ Morning Line Chapel
Contact- Stay in-touch with events and more Down Load App for Contributions or Prayer requests: Mulligans for Life/ Morning Line Chapel
mulligansforlife.com
\Join our "MLF-MLC" team, become a $19.95 monthly partner!!
Help "Mulligans" Change lives around the world one leg up at a time!