Morning Line: Don't be "Round Tuit" Intentions don't Produce!
 Intentions never paid for a bill or produced a crop. Don't be a round-to-it farmer, sitting on your seed, complaining you haven't a crop.
 "In the morning sow your seed, and at evening do not let your hands be idle; for you do not know which will prosper, this or that, or whether both alike will be good." Ecclesiastes 11:6 (NRSVCE)
Sow daily in your life and others, believing in faith, God is the ultimate multiplier of all good seed. Expect a good crop and prepare for your harvest blessed to be a blessing.
Live with expectation full of His spirit guiding you!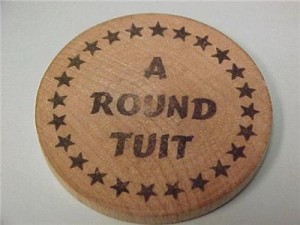 See ya in God's Winners Circle
GW
Mulligans for Life/ Morning Line Chapel
Contact- Stay in-touch with events and more Down Load App for Contributions or Prayer requests: Mulligans for Life/ Morning Line Chapel
mulligansforlife.com
Partner with "MLF-MLC" donation by texting    "77977" and type; mulligans , in the subject line. Any size contribution helps us help others.
Help "Mulligans" Change lives around the world one leg up at a time!