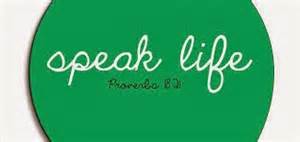 Morning Line: Words of Life!
God does not want us to reason things out, for carnal reasoning will always land us in a bog of unbelief.
Have faith in Him, you'll find that every Word that God gives is life.
"The mind governed by the flesh is death, but the mind governed by the Spirit is life and peace." Romans 8:6 (NIV)
Your "Attitude is a choice. Happiness is a choice. Optimism is a choice. Kindness is a choice. Giving is a choice. Respect is a choice. Whatever choice you make makes you. Choose wisely."✨ Life has taught me this; I cannot control what happens to me or other people's attitude. However, I know I am the master of my own attitude. I can control the way I respond to life's negative or postive situations. I always have a choice. I can choose to face them with a positive mental attitude. Work on your mindset. A positive attitude is a winners attitude. Ultimately you have control. It's your choice. What's your attitude today? By Dal Dhaliwal
Choose words of LIFE today over yourself and All that cross your path!!!
See you in God's Winners Circle. 
GW
Mulligans for Life/ Morning Line Chapel 16845 N 29Th Ave #5 Phoenix, AZ 85053
Contact- Stay in-touch with events and more Down Load App for Contributions or Prayer requests: Mulligans for Life/ Morning Line Chapel,mulligansforlife.com
Partner with "MLF-MLC. Help "Mulligans" Change lives around the world one leg up at a time!