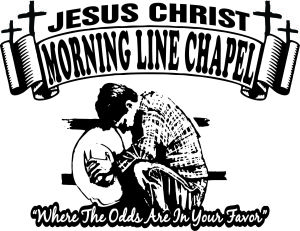 Dear Friends and Family,
Morning Line Chapel is blessed with your support and prayers. Through this support, we are privileged to continue working for God, our Father, and Jesus Christ. As the year comes to a close, we make our annual request for continued support.
We have witnessed many miracles including physical healing, restoration of relationships, successful rehabilitation, and rededication to the Lord. We also are blessed to pray daily and counsel with many and supply spiritual resources (Bibles, discipleship materials, audio and devotionals) to jockeys, families, those in recovery programs, and thousands more through our social media outreach. Through your generous support, our outreach extends beyond Oklahoma and Texas.
We are finishing out the year locally, with the Fall Quarter Horse season at Lone Star Park, Grand Prairie, Texas. Our ministry provides love and support to jockeys, trainers, and staff behind the scenes at locations throughout Texas, Oklahoma and beyond. The places we can't go physically, we minister to through our extensive social media outreach, which is growing exponentially as we make our materials available online. We also participate in the weekly meetings at Brothers House in Gainesville, TX. The mission of this home is taking in men in recovery from addiction, helping them establish a spiritual base from which to find work, and return to a productive life.
The sixth edition of "Morning Line Pocket Devotion" is now available for the asking. Please email me your address and we will send you one. As 2014 comes to a close, we ask you prayerfully consider making a year-end tax deductible contribution or becoming monthly partners. Any amount will change a life. We remember you in our prayers and are eternally grateful for your support.
May God continue to bless you and yours,
Chaplain Glenn Waldon
Morning Line Chapel or Mulligans for Life
2825 North State Highway 360 suite 723
Grand Prairie, TX 75050
405-365-1319
Visit our new website Mulligansforlife.com to donate via PayPal